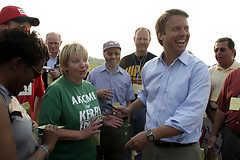 In yet another example of Ustream.TV impacting the political processes of our country, Presidential Candidate Senator John Edwards streamed LIVE to his base of supporters on Ustream.TV yesterday. In his "Its Time To Party For Change", the Edwards campaign sponsored hundreds of house parties across the country. Thousands of Americans gathered in living rooms to join John Edwards' campaign to change America. This is democracy, LIVE.
Senator Edwards was joined by his wife Mrs. Elizabeth Edwards to discuss the issues, build local support, and talk live with their supporters. Each house party was able to talk live with the Senator and Mrs. Edwards. For most of these supporters, it was the first time they were able to directly interact with the Senator.
Another Presidential Candidate Senator Chris Dodd has streamed LIVE on Ustream.TV on several occasions in the past leveraging Ustream.TV's LIVE platform and rallying his base. ustream.TV has also seen the Young Democrats of Atlanta stream their conventions and politcal activists stream their rallies.
For more information on John Edwards, please visit www.johnedwards.com
Also see Shel Israel's recent discussions on Ustream and the political process: HERE>>