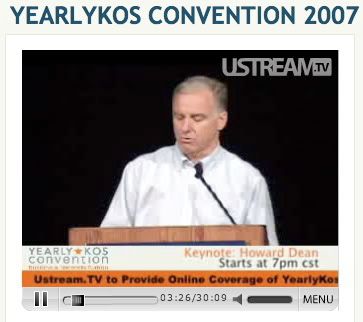 Last night, Governor Howard Dean streamed his keynote speech LIVE on Ustream.TV from the YearlyKos Convention. Governor Dean gave a motivating and powerful speech to nearly 1400 in person and another 200 online.
"There is so much great content that mainstream media just doesn't cover" says Brad Hunstable, Founder of Ustream.TV. "Ustream.TV now gives the world access to all the great conferences and events around the world."
Tune in Saturday, August 4th for Senator Harry Reid, Speaker Nancy Pelosi and Senator Chuck Schumer at 8am cst. Later that day at 1pm cst watch the Presidential Leadership Forum LIVE on Ustream.TV.
To see the full Howard Dean Speech CLICK HERE >>
All day Friday and Saturday, Ustream.TV will stream a variety of events, panels, and confernces from the Yearlykos.