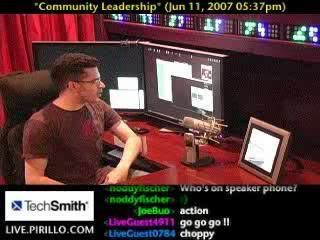 Internet Guru and Avid Ustreamer, Chris Pirillo (live.pirillo.com), recently interviewed Ustream.tv CEO Chris Yeh on Community Leadership. Â 
By Community we mean the wonderful and creative Ustream.tv broadcasters, viewers, and users.
By Leadership we mean the act of facilitating the growth and nurturing of our community.
Ustream.tv strongly recognizes the importance of our community.  Ultimately it is you that has made Ustream.tv the most recognized live streaming site on the internet.
You can understand more out the role of a Community Leader/Evangelist/Advocate/Manager HERE.
See the full video with Chris Pirillo and Ustream.tv CEO Chris Yeh HERE>>