Yesterday's iPhone craze was widespread and well known. Ustreamers across the country covered the event live from NYC, to the Technology Evangelist at Mall of America in MN, Entercourse.TV in Dallas, to iPhone Ustreamers in San Fransisco, to ZooomrTV in Palo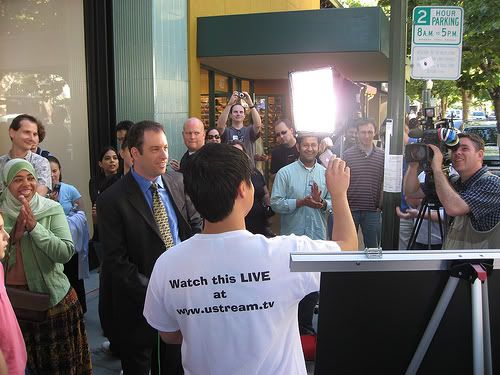 Alto CA, to our Ustreamers in Hawaii.
In total, over 70,000 viewers watched and participated LIVE in the launch of Apple's iPhone.
Special Congrats to the Benjamin Higgebotham and the Technology Evanagelist who were the FIRST Ustreamers to break 1,000 simultaneous viewers. One hour later ZooomrTV accomplished the same feat.
Ustream.TV CEO Chris Yeh says, "Ustream is delighted that we were able to support Ustreamers like Zooomr TV and Technology Evangelist in their coverage of the iPhone launch. We continue to be amazed by the resourcefulness, creativity, and talent of Ustreamers everywhere, and look forward to seeing what they do for future events. As I watched both CNBC on my TV, and Kris Tate on my laptop, I was struck by the impact of the democratization of TV. CNBC offers a centrally directed broadcast. Kris was answering questions from passers by and folks calling his cell phone. The two were very different, but very compelling in very different ways."
Duncan Riley of Techcrunch had a very insightful article on the power of Eventstreaming. They keenly recognized the power of the Ustream/Zooomr iPhone coverage writing "By comparison the Zooomr logo and brand were exposed to thousands (maybe even more) watching the Eventstream on Ustream, many of whom may never have heard of or used Zooomr before. Money could possibly buy that exposure, but it is well a truly beyond the reach of most. In marketing terms it was pure brilliance, and it will not go unnoticed. The first wave of Eventstreaming will be driven by smart startups who know a good thing when they see it, and who can't afford to buy this sort of exposure any other way. Eventstreaming is the difference between just being there, and being seen."
"By democratizing TV, Ustream hopes to let everyone with talent and opinions voice their views and display their creativity. The more conversations we have, the more insight we'll generate, and the better off we'll all be. Viva la revolucion!" Chris Yeh CEO of Ustream.TV
Check out this Techcrunch Article on Ustream.TV and Eventstreaming: HERE >>