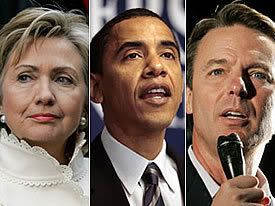 This Thursday through Sunday (Aug 2-5th) Ustream.TV will provide exclusive LIVE coverage of the YearlyKos Convention in Chicago, IL.
The YearlyKos is an annual convention gathering people from all walks of life who belong to the Netroots community, the US-based (but globally focused and inclusive) non-partisan grassroots political action community that uses the Internet and blogs as primary tools for: expressing viewpoints, building consensus, acting to change the status quo, mobilizing huge numbers of people and informing each other and the world about current, events, grassroots actions, networks, meetings, policy and more. The YearlyKos Convention is a project of bloggerpower.org with the generous support of the Netroots Arts and Education Initiative (NAEI).
On Saturday at 1pm CST, Ustream.TV will stream LIVE the Presidential
Leadership Forum (a Democratic Presidential debate) featuring all the big names: Sen. Hillary Clinton, Sen. Barack Obama, Sen. John Edwards, Sen. Chris Dodd, Governor Bill Richardson, and other candidates. Additionally on Saturday at 8am CST, Ustream.TV will provide LIVE coverage of the Ask The Leaders Forum featuring Bob Geiger, Rep. Rahm Emanuel, Sen. Charles E. "Chuck" Schumer, Sen. Harry Reid, and Speaker Nancy Pelosi.
Ustream.TV will also provide coverage of the other break-out panels and forums on a variety of topics from "All Politics Is Still Local: Local Blogging" to "The Impact of Globalization on America's Workforce".
For more information on the YearlyKos, please visit http://yearlykosconvention.org.